Hot 2000
Hot 2000 is Hot Screen's in-house developed heat press and, according to many of our customers has everything needed to gain perfect results every time.
The ease of operation and the easy adjustment options combined with durability and reliability beyond the ordinary has made this machine a real big seller in Sweden and Europe.
If you want to invest in a powerful workhorse, this is the right machine for you! The machine is built on our premises in Kungsbacka and we always have machines on the shelf for immediate delivery.
The installation of the machine is simple, but if necessary, we can offer a technician who would help with you with your installation.
Technical information
Pressure: Pneumatic and continuously variable from 0 to 8 Bar
Timer: from 1 sec to 60 sec
Temperature: Up to +200°C.
Power: 2200W
Voltage: 220V
Weight: 95 kg
Operation: Easy swivelling with dual controls
Replaceable double under plates in sizes of 38x38cm & 38x15cm 15x15cm (Under plates included in delivery)
Size: Width: 100cm, depth 60cm, height 60cm.
Compressor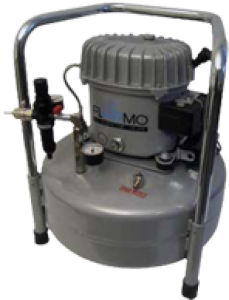 An air compressor is required to supply Hot 2000 heat press with compressed air.
If you do not already have one, Hot Screen AB is dealer of Flairmo and recommends their FLAIRMO Model S33.24 for use with our Hot 2000 heat press.
This is a compressor with low noise making it ideal for retail environment. It also has the capacity to supply several heat presses at the same time.