Stark Process is a heat transfer that can be printed in unlimited number of colours and from photos and with colour gradients. The alternative of embroidery lookalikes are also available. The heat transfer will stay on for the life of the garment. The product is completely phthalate free and certified according to STANDARD 100 by OEKO-TEX® .
It is easy to apply Stark Process on textile, but as there is an almost endless variety of treated fabrics, it is always wise to test whether Stark Process attaches to your particular garment.
We are happy to send you samples of our products to ensure that you get the results you expect. We can also perform the tests for you if you prefer.
* Check immediately upon delivery of the heat transfer that you are completely satisfied in terms of colour and workmanship. Should the product not meet your expectations, please contact us. We have customer satisfaction guarantee on all of our heat transfers.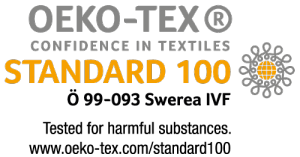 Properties of STARK PROCESS
Application:
125°C - 180°C
Washing resistance:
0-85°C
Minimum order amount:
50 pcs
Time:
8-20 secs
Ironing:
Iron the back of the garment
Pressure:
4-7 bar
Colours:
Printed in CMYK
Tumble:
Yes
Removing the plastic carrier:
Hot peel
Application of Stark Process heat transfers
The values we recommend should be considered as general recommendations. You will obtain the best results if you make a test with your particular heating machine.  We use our Hot 2000 heat press when performing our own tests. Stark Process covers a temperature range from 115°C to 180°C. The time can be adjusted from 8 to 20 seconds. Pressure setting of 4 to 7 bar is good value for our HOT 2000 heating machine. The heat transfer is "hot peel" that means you pull off the plastic it is printed on directly.
Laundry & Ironing advice for garment with Stark Process heat transfers
Stark Process heat transfers can handle dry cleaning and industrial laundry and drying up to 85°C. Do not iron directly on a transfer, as it may melt. It is good to iron on the back side of the garment in which a transfer is applied.