STARK Heat transfer
When you need a
durable

heat transfer

Do you need a heat transfer that is hardwearing, durable and fits all conditions? Then it's the STARK Heat transfer you should use.

STARK Heat transfer is specially designed for work clothes and for application on hard-wearing garments.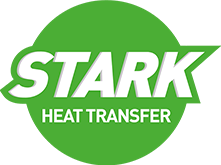 Properties of STARK Heat transfer
All heat transfers are certified to the highest standard and has a very high quality. See below recommendations for STARK Heat Transfer – our most durable print developed for workwear.
Applications for STARK Heat Transfer
STARK Heat Transfer is a transfer print specially developed for clothes that must withstand tough conditions. This makes it most suitable for workwear and outdoor garments that wear hard and therefore maintain a very high standard.
A print for workwear
The most common areas of use to print STARK Heat Transfer on are workwear of all kinds, jackets, hats and other outdoor garments, but attach just as well to other textiles that require a durable heat transfer.

Environmental Certificate
STANDARD 100 by OEKO-TEX class 1

Remove plastic carrier
Hot / Cold Peel

Shelf life
At least 5 years

Wash durability:
Up to 85°C

Tumble drying
Up to 85°C

Ironing
Only inside of garments

Temp. application*
160°C

Press upon application*
2 - 6 bar

Time Application*
15 seconds
* These indications are intended as recommendations only. Some deviation in temperature, time & pressure may occur depending on the material our heat transfer is applied to.
Reasons to order STARK Heat transfer
There are two versions to order of STARK Heat transfer. Both designs have the same good qualities regarding quality and durability but differ in appearance.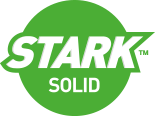 STARK Solid
Suitable when the logo has flat colours
Can be ordered throughout the Pantone C range.
Can be ordered in 7 colours in the same logo.
Numbers & letters for immediate delivery.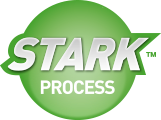 STARK Process
Suitable when the logo contains gradients
Photo effects are printed in this variant
Can be printed in an unlimited number of colours
Possibility to order logo with embroidery effect.
Application of heat transfer,
how do I do?
It is easy to apply our heat transfer to textiles, but there are some tips for the result to be good every time. Watch the movie to see the most basic instructions on how to make the heat transfer stick to just your garment as well as possible. 
All values in the movie are recommendations on our hot presses Hot 2000 & Hot 4000. Some variation in the settings may occur on other machines.