Hot 4000
HOT 4000 is our largest and most efficient machine. Large volumes of garments can be processed in shortest possible time and with ease of operation. This makes it an easy choice for those who need industrial capacity. Maximum possible consideration is given to the operator's working environment and safety without hindering the use of the machine.
Technical information
Pressure: Pneumatic and continuously variable from 0 to 8 Bar
Timer: From 1 sec to 60 sec
Temperature: Up to +200°C.
Power: 2200 W
Voltage: 210-240 VAC 50-60Hz
Weight: 300 kg
Operation: Automatic carousel with push of a button
Vertically adjustable operating height with buttons on the operator panel
Replaceable double under plates in sizes 38x38cm & 38x15cm 15x15cm (Included in the price)
Size: diameter 150cm, table operating height, variable with up and down buttons.
Pictures
Compressor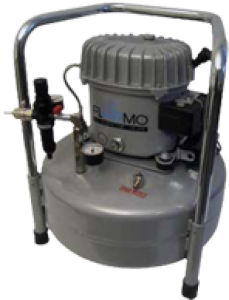 An air compressor is required to supply a Hot 4000 heat press with compressed air.
If you do not already have one, Hot Screen AB is dealer of Flairmo and recommends their FLAIRMO Model S33.24 for use with our Hot 4000 heat press.
This is a compressor with low noise making it ideal for the retail environment. It also has the capacity to supply several heat presses simultaneously.